I made a trip to Dallas this weekend, and I had a great time! Despite a horrible drive down there in pouring rain nearly the whole way, it turned out to be a very successful trip!
Mom and I headed up to Dover Saddlery so I could stock up on some horseback riding gear since I have none anymore (rather, I have none that fits me!). I had done some research and considered buying everything online, but I decided a while back that I really just had to go try things on. And I am SO glad I did! Everything I was planning on ordering online fit like crap in person, helmet included.

So, I left Dover Saddlery with two (way expensive) items:

Ariat Boots (with a round toe because they're just better)
Charles Owen Riding Helmet
After that, Mom and I headed to Penzey's Spices (if you've never been to one of these stores, you are SO missing out). I didn't go crazy like I usually do, which is shocking! I think I was still in a money-spending coma from the trip to Dover Saddlery a little bit before. I walked out of there with a few bags of course ground black pepper and a free bottle of Northwood Seasoning (can't wait to try it!).

After that was North Park Mall (why can't we have a mall like this here?!). This wasn't an expected visit, but unfortunately before I left for Dallas I realized that my dry cleaner had ruined BOTH of my dress shirts. Seriously? The tag clearly says "dry clean only," and yet they washed them. And they're toast. The dry cleaners are going to try to fix them, but I have a feeling that when I stop by on Tuesday they're going to be forking over some money to cover the cost of those two ruined shirts. And I will be finding somewhere that actually reads the labels on clothing to start bringing my dry cleaning to. Anyway, I need a dress shirt next week, which meant I had to go find one. I ended up finding a decent enough one at The Limited on sale for 20 bucks, and surprisingly I found another shirt I really liked there. I used a coupon I had, so that one ended up being less than 20 bucks too. Yay me!
And the final highlight of my Dallas trip this weekend was this amazing restaurant. My parents recently discovered it and couldn't wait to show it to me as well. Four Winds Steakhouse is in the middle of freaking Nowhere, Texas, in a former residence in the middle of a field. Supposedly the house was once owned by a Dallas Cowboys player, but I don't know who it was. Regardless, umm, holy crap was the food amazing. We shared a goat cheese appetizer and a tomato & mozzarella salad. I'm a sucker for a good tomato & mozzarella salad, and boy did this not disappoint! My entree was a filet mignon, and I think this is the first time I've had a steak that I didn't even have to season with salt. It was perfect. I was stuffed, but I had to finish that darn steak. I couldn't let myself leave any of it.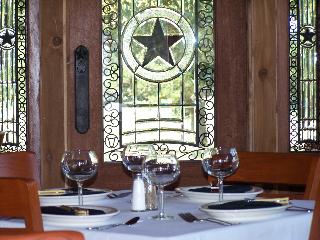 That's about it for the excitement! Otherwise, I pretty much chilled down there. It felt good to relax a little bit.